Think you are too "something" for leather pants? Think again! Sarah makes this iconic staple an appealing option for all!
Everyday, especially around the holidays, I go for comfort. The natural stretch in leather and suede pants makes them second to my yoga pants in my wardrobe. (Sometimes when comfort comes first, my style loses the battle and takes a backseat.)
I know some readers are thinking "I cannot pull off leather pants!" But leather pants aren't like they used to be. The leather is more modern, with lambs' leather that stretches and feels like butter. The cut is updated like a pair of jeans, or pull on with no zippers or buttons.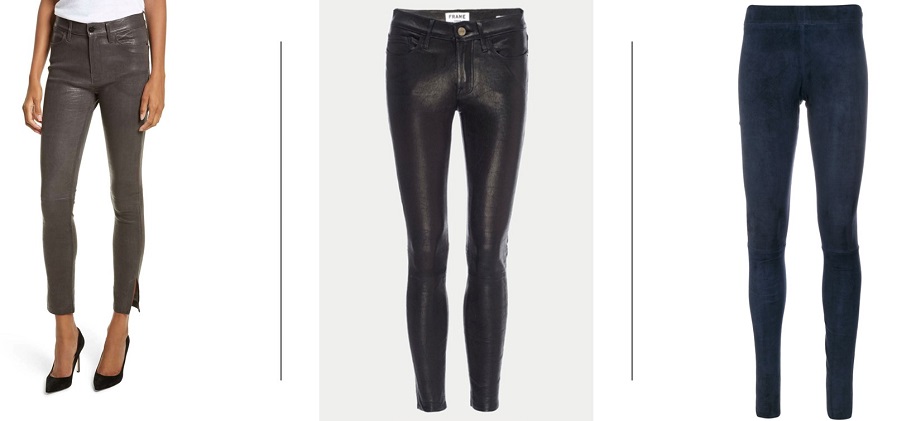 Read the tips below and give leather pants a try. You may surprise yourself!
1. Today's "any day" leather pants can be dressed up with heels and dressed down with a chunky sweater or graphic t-shirt.
2. If you don't feel like you're ready for leather, try the suede. The look is less shiny, but still chic and luxurious.
3. Try a color other than black! Of course, black is a staple, but many people feel too "rock 'n roll" or are reminded of an old pair of leather pants they had. Navy is the new black, and YES, you can mix it with black. (Stay tuned for a post on mixing navy and black.) Charcoal is also a great, modern color to try!
4. Cover your bottom. If you feel like you are making too much of a statement with your new favorite leather pants, wearing a longer blouse or sweater will help tone it down a notch.
TSALT has a great variety of leather and suede pants at the shop right now, by Sylvie Schimmel from France and, of course, Frame! Make sure a pair of these end up on your holiday wish list or wardrobe!