Posted on
By Alicia McCaslin
Shorts...they have become the item that many women give up on at "a certain age". Coming to terms with when it's time to avoid certain items is another rite of passage. Stylist, Alicia McCaslin, sets a goal for herself while getting her inspiration from TSALT's owner, Tamara Saltonstall!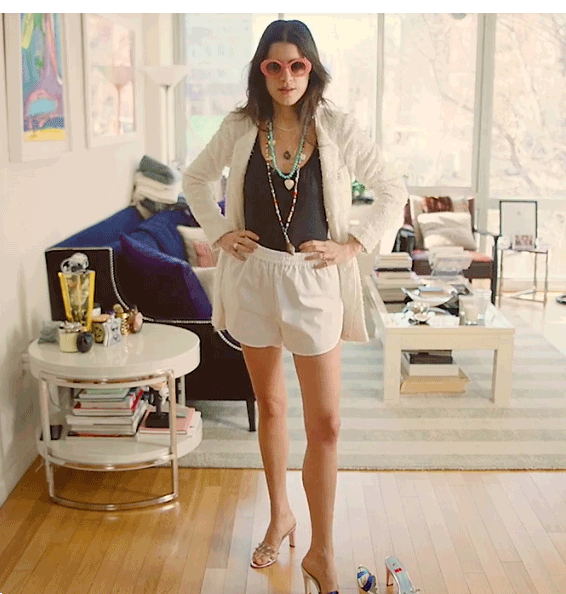 A very important part of my job is to help women figure out their style trajectory. Having turned 50, the challenges of getting older are ones that I personally explore on a daily basis. One thing that comes to mind are the threads of advice I received in my 40s. I remember as though it was yesterday (imagine I'm sitting in a rocking chair about to impart great wisdom…). You learn a lot behind the doors of a boutique where women share and disclose a vast variety of secrets.
A group of out-of-town friends told me that after 50 your body starts to soften and the wine drinking can become the downfall of your wardrobe! Your size 2's become size 6, 8, 10's! Those sage women were absolutely correct — my body is not rebounding as it used to after prior winters. By no means do I want to appear ungrateful. I have been blessed with great genes but in all reality, I've never worked harder in the name of maintenance. Those same women also told me to be thankful I didn't have boobs, as those age you, too! I'm so fortunate to relish in the small victories.
Alas, if only that were all. Let's add a few extra lines around my eyes and forehead, a meticulous nightly skin regimen, and more frequent trips to my colorist…this is my new reality. Aging isn't for the weak of heart but thankfully the weakening eyesight bodes well in assessing myself in the mirror. I've learned to love soft edges. Most importantly, I'm navigating my own trajectory of determining how I want to age. Each of us will all come to terms with this in our own time, but can we discuss the ever-growing plethora of fixes for today's modern day woman? In this case, ignorance is bliss because the knowledge is enough to make one cower in a purgatory of inadequacies. For me, I combat all of these choices by keeping a healthy perspective of what makes me truly happy, along with continually reaching for new goals — physically, mentally, spiritually, and emotionally.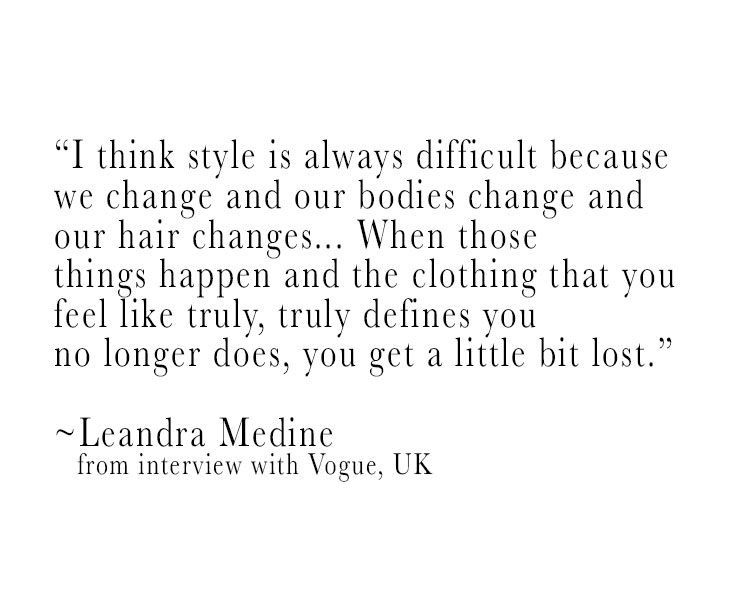 Knowing your strengths and weaknesses in regards to your body type is a major part of creating great style. All through my 40s I was resolute in not letting certain ideas interfere with what I wanted to wear. Statements such as "age-appropriate clothing" sounded like fingernails across a chalkboard but I acknowledged the need for determining when certain items or styles of clothing would time out in one's life. How does one stylist carefully navigate the phrase 'mutton dressed as lamb' and also strive to be a rule breaker? Oh, the pressure!!
Shorts are a great example. I was wearing shorts all through my 40s, even though my legs were not what I would consider my best feature. The difference lies in what seemed passable while under 50 is now beginning to feel more circumspect. This year I am determined to pay more attention to my leg workouts in a compounded effort to improve their strength and appearance. I'm committed to see what I can attain with a combination of cross training and dedication. With an effort to maintain, the gains will undoubtedly enhance my strength and future mobility.
While setting myself up for being an active older woman one day plays well, I'll come clean…I'm no stranger to vanity and this is a style blog after all! Being tempted by a slew of cute shorts in the stores is my sartorial carrot! Quite recently I received a great question from my client regarding shorts. She basically wanted to know some age-appropriate guidelines for wearing summer's hot weather option to pants. Let's consider for a moment the intensity of heat in the DMV. While dresses are polished and easy, shorts can add the same polish and comfort once you determine YOUR ideal length.
So how do you determine that length? Everyone is different so regardless of what is in style, there are a few things you should consider when finding your ideal length.
Your overall height
Your torso: is it short or long?
Your imperfections: think spider veins or varicose veins
Your knees: love 'em or not, your knees could determine the length of your shorts as you want to hit the narrowest part above your knee.
As if coming to terms with your body struggles weren't hard enough, having friends, family, or co-workers who flourish in the areas you don't may garner one of two reactions. Fight or flight…and no, I'm not implying you take out the woman whose assets you covet! If someone else has stunning legs, let that be your inspiration instead of having you feel as though you will always pale in comparison. Together we can build each other up.
Which brings me to Tamara. She grew up in Colorado on the ski slopes where her legs were schooled in the art of high-definition, sculpted muscle tone and needless to say, incredible strength. I'm fully confident that her wheels have eternal memory and will remain an asset regardless of her age. And to my point, she earned them with years of conditioning and logged a lot of miles for those results. Seriously, it's safe to say I have a healthy dose of TLE…Tamara Leg Envy! For the record, I know I will never have legs like hers but she inspires me to want to make the most of mine before it's too late.
So I thought I would breakdown the perfect shorts for Tamara and why.
First of all, Tamara can and should wear shorts. They suit her and she looks great in them. However, just because she has incredible legs does not mean she can wear any and all shorts. Tamara is also petite at 5'5" and has a very short torso. Her challenge is to trick the eye into elongating her middle while still keeping the length in her legs. The perfect shorts for her are low-waisted without a lot of volume and a short inseam. Yes, shorter shorts are better on Tamara because longer shorts would not scale correctly due to her height. Keeping the leg opening tailored or just slightly roomy balances her smaller frame nicely without overwhelming her.
Look 1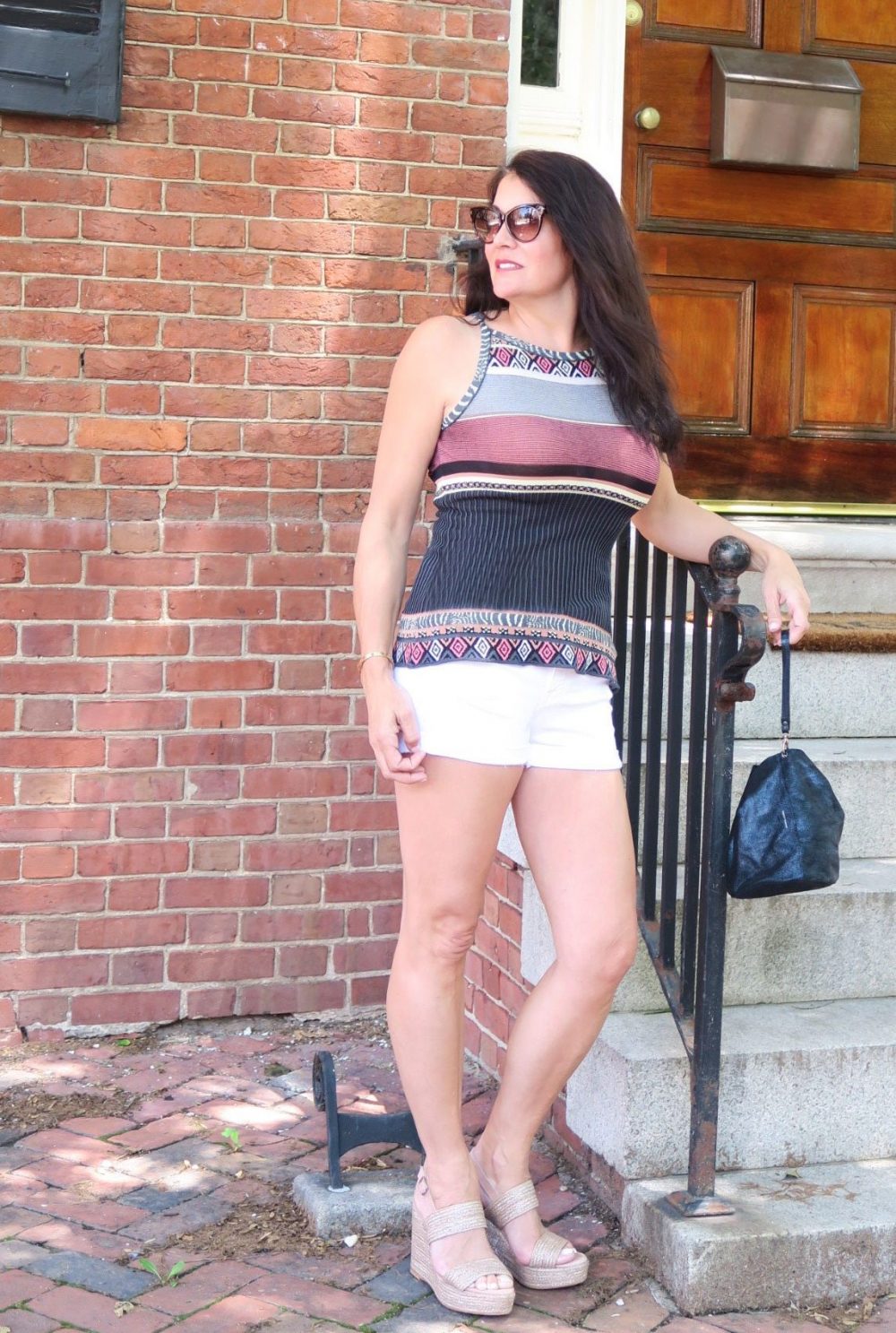 Shorts by FRAME Denim | Knit Tank by Aldo Martins | Leather Wrist Bag by Tracey Tanner
Look 2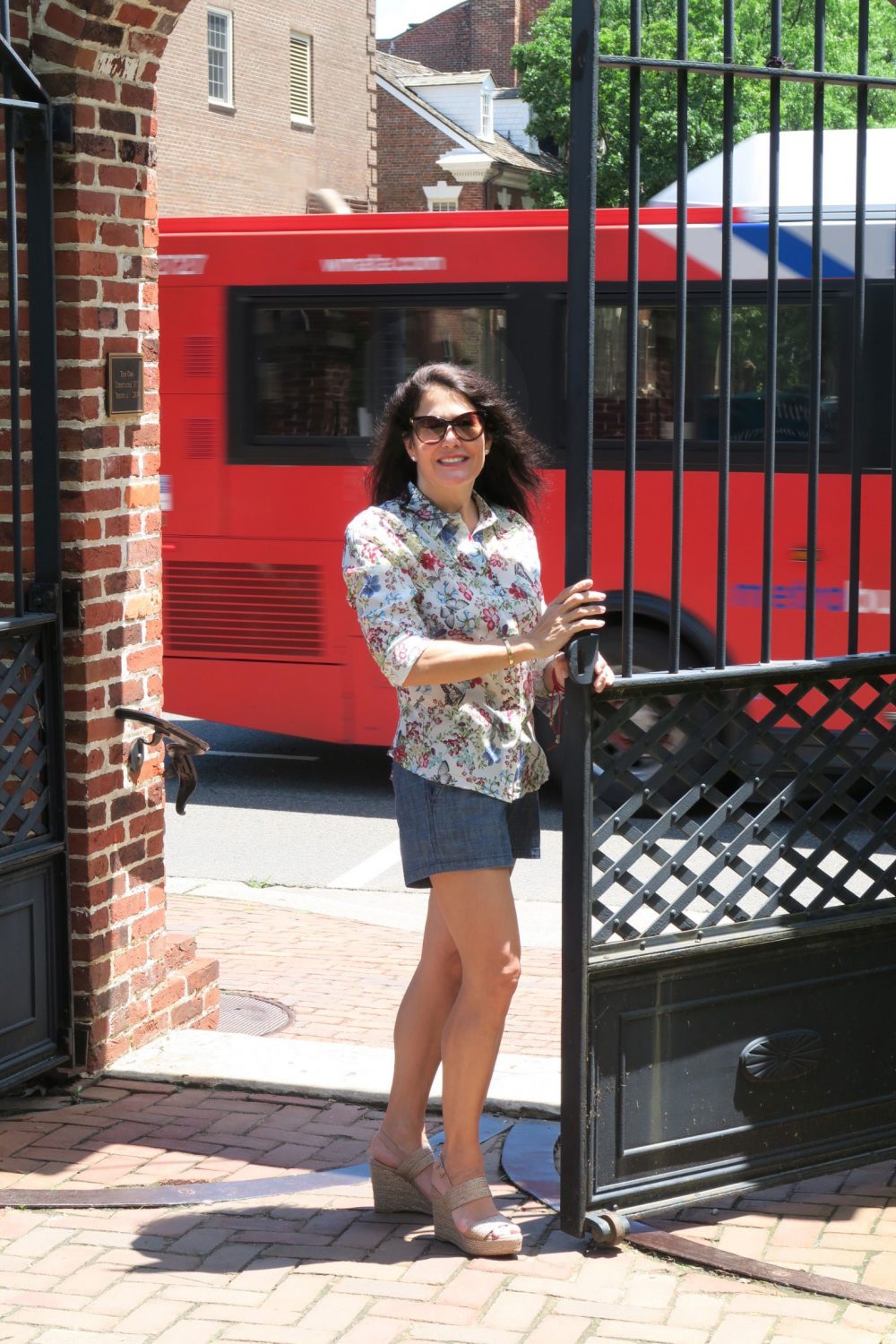 Silk Floral Garden Top by Joyce & Girls | Dylan Chambray Shorts
Look 3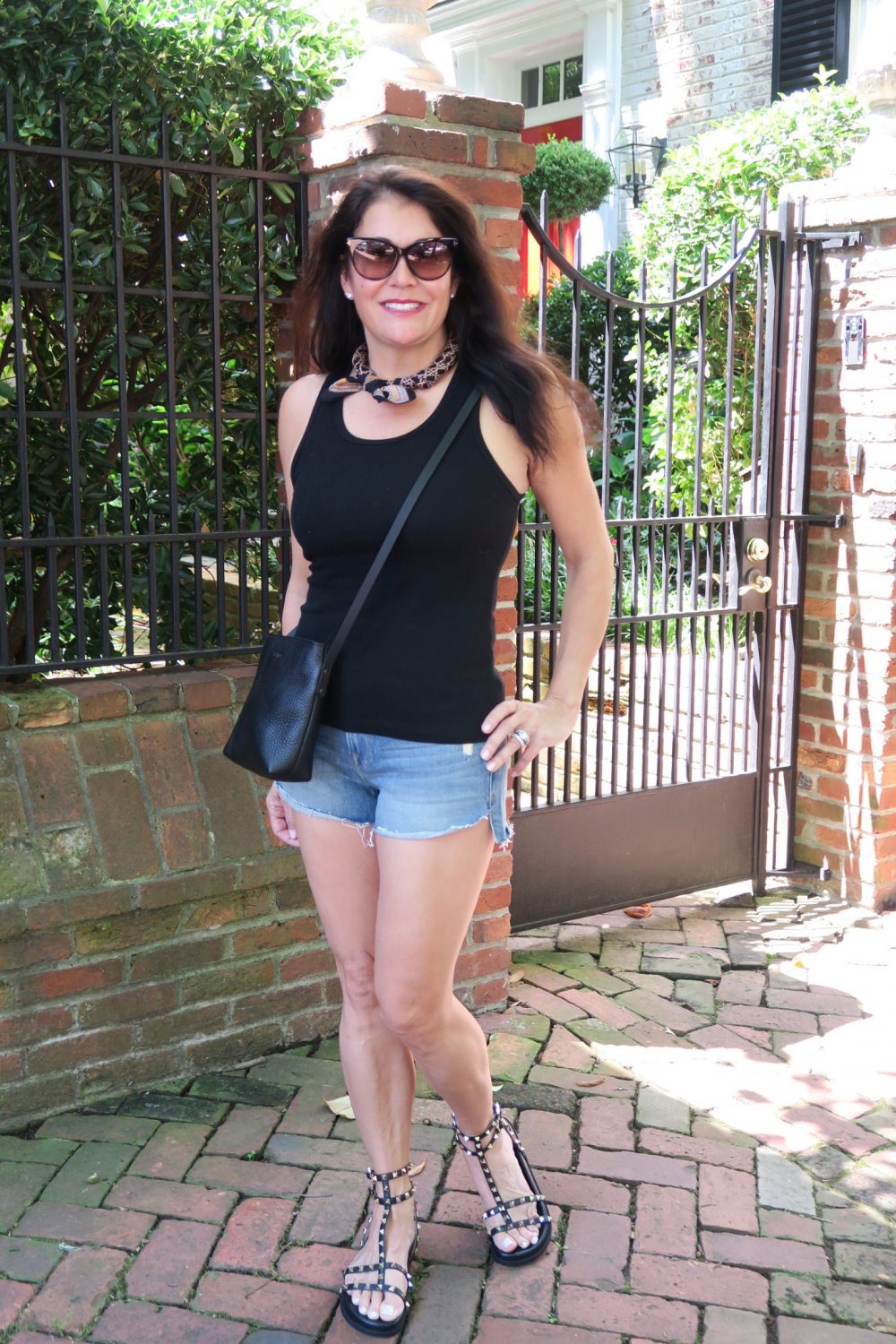 Neck Scarf by A Peace Treaty | Black Racerback Tank by Feel the Piece | Le Cutoff Tulip Short by FRAME Denim | Crossbody Leather Bag by The Stowe
Shorts may seem like the last frontier, or the one you've decided to forego. Or, perhaps they're your Everest as they've become mine. While ultimately my time may be running out, I'm not going out without a fight. Shorts are not in my rear-view mirror quite yet. Now if you'll excuse me as I go look for my bikini…I hear Bon Jovi playing by the pool and need to go capture my youth!
(Fade in It's My Life!)
A few tips on wearing shorts this summer
Shorter shorts for shorter women.
When in doubt, choose a pair that are somewhere in the middle. Everyone's middle is different but for shorts, it's not necessarily the middle of your leg. You should consider your overall height, then aim to have your shorts hit somewhere above the middle while hitting at the narrowest part of your leg.
Tight + Short = Never. It's just not a flattering look.
Choose good fabrics. They will cost more but a good cotton or linen blend short will wear better, adding structure to your silhouette.
Short torso, go low waisted.
Long torso, go high waisted.
For longer legs, go high waisted. If you don't have a short torso, go for a higher-waisted short to add length to your legs.
Dolphin hems (high cut side seam tapering to the front and back – like a dolphin's tail) are universally flattering and add length.
Side zippers are your friend — very slimming!
Pocket placement matters Side pockets can add visual inches to hips so either avoid or use to your advantage.
Trending…the fuller leg opening. Great on taller women and women with a more athletic thigh (toothpick legs beware of wide leg opening!).
Consider tailoring your shorts to have them fit properly. Release a hem, shorten a hem, or fit the waist.