Posted on
By Alicia McCaslin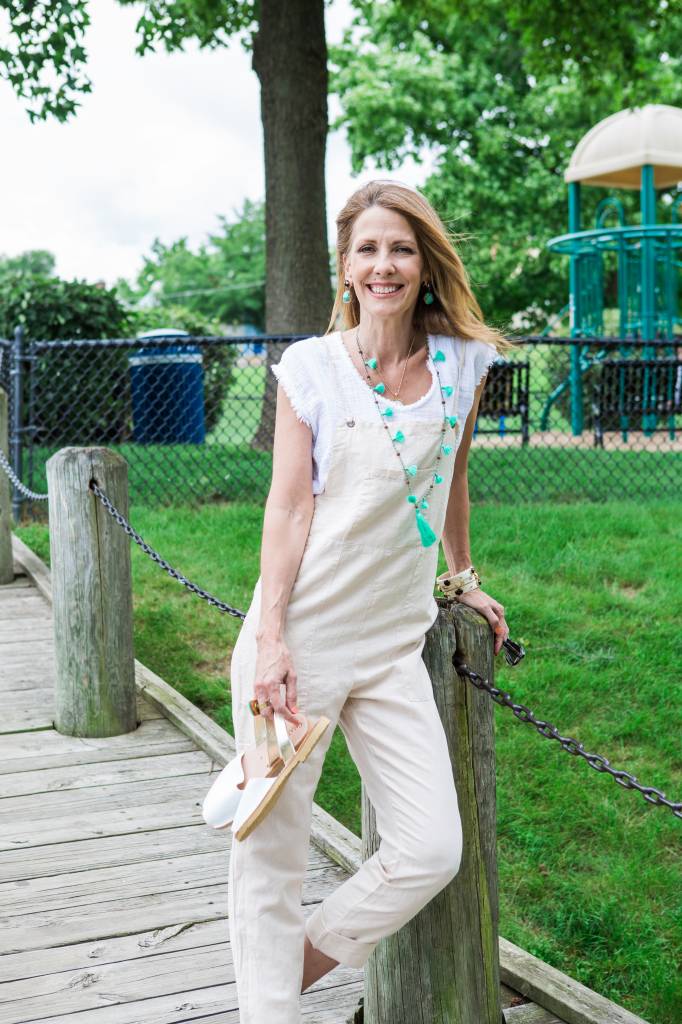 Jumpsuits have everything for young and the young at heart! They're unique, fashionable and very wearable! Let's take a look...
They say imitation is the greatest form of flattery. That being said, I have a hard time getting behind the latest summer trend in menswear…rompers for guys. It seems that the guys are playing in our sandbox! Reputable sources are corroborating the onset of this summer outfit…The Boston Globe, CNN, The Huffington Post, and USA Today have all written pieces on this stylish new creation for men that has — shocker — sparked controversy like everything else these days.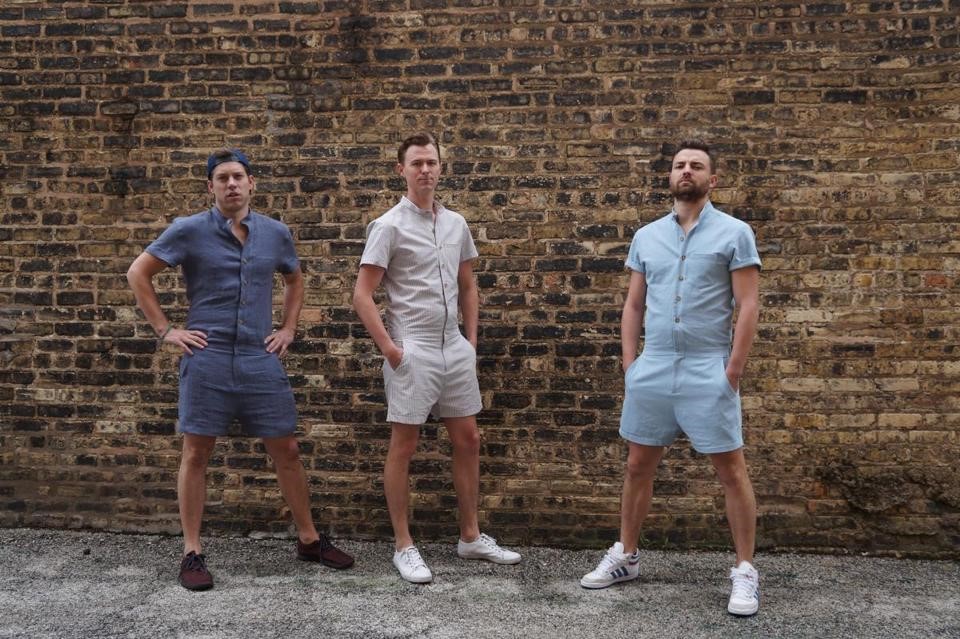 ACED is the company that has trademarked The RompHim™, first seen on the cultural mecca for innovation, Kickstarter. Four friends of varied backgrounds (management consulting, investment banking, private equity, and fintech) found something was missing in the realm of men's clothing options: where was that something-stylish, something-fun yet versatile item that didn't sacrifice comfort and fit? "Everything was either too corporate… too fratty… too 'runway'… or too basic."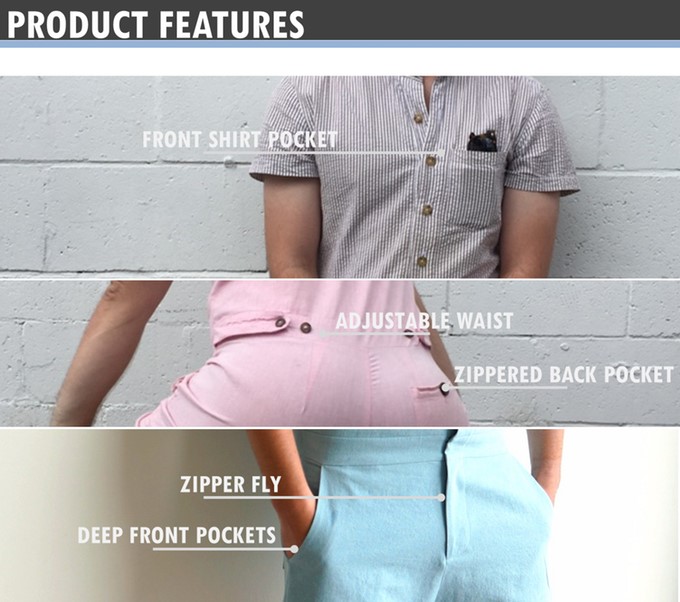 Millennials are so amusing as well as predictable — their company was derived from the first letters of their names — but I will give them props for an original idea. ACED, we feel your pain. Who hasn't felt abandoned with the lack of choices available for comfort and been desperate for someone to answer our call in the style department? Perhaps I'm becoming jaded, but I can't help but wonder who's zooming who here? I'm also trying to imagine myself having a serious conversation with a local guy wearing a romper without losing focus as a whole host of thoughts present themselves in my mind (this coming from an art major with a very high threshold for shock value).
Clearly, by now we all know clothing and style are forms of communicating who we are without having to speak. So the following questions would beg answers as I feign listening to this imaginary style enigma: What does he do for a living? Did he lose a bet? Where did he purchase his romper? Was he shopping alone or with a friend? Was there someone helping him? How much did it cost? Did he get a deal? Is he a style leader among his peers? A burgeoning trendsetter or a tragic try-hard? Let's be real, it's very unlikely any of us will encounter this bold style maven in Old Town, Alexandria (at least not this summer). But if you do, I want documentation!
All kidding aside, I always want to remain open to new ideas and can certainly understand the appeal of the jumpsuit to people of all ages. In actuality, they were designed as utilitarian garments or uniforms. When there's work to be done, wearing a jumpsuit makes a lot of sense. Women historically broke down clothing barriers when Rosie the Riveter sported that iconic jumpsuit and became America's symbolic girl boss showing us how to #GSD. How ironic that when a woman wears a jumpsuit she's a bad-ass and when someone coins "The RompHim", it becomes a sign of male fragility. There's a lot to be said for the ease of one-item dressing. Many of the issues that come with fitting a dress can be alleviated with many jumpsuit styles. Keeping them loose and unbelted with a cute pair of sandals allows for an effortless ease and comfort during the dog days of summer. That millennial gang couldn't have said it better — they are unique, fashionable, cool, and very wearable!
The TSALT Tie Front Jumpsuit in Black. (Visit TSALT or email for details)
TSALT has a wide variety of jumpsuits this season with even more on the way throughout the fall. Alice & Olivia, LACAUSA, M.i.h., SBJ Austin, and Leo & Sage have all offered great options. Tamara has designed her own version that is part of the TSALT Custom Collection as well. Created in a silk or silk crepe, this can be an elegant and chic solution for a wedding or many other special occasions. There really isn't an age cutoff for jumpsuits either, only a willingness to find the right style for your needs. For instance, if you're a mom that spends most of her days chasing after little ones, I cannot think of a better option that provides playground function with the ability to convert quickly to date night, simply by adding a change of shoes and some lipstick.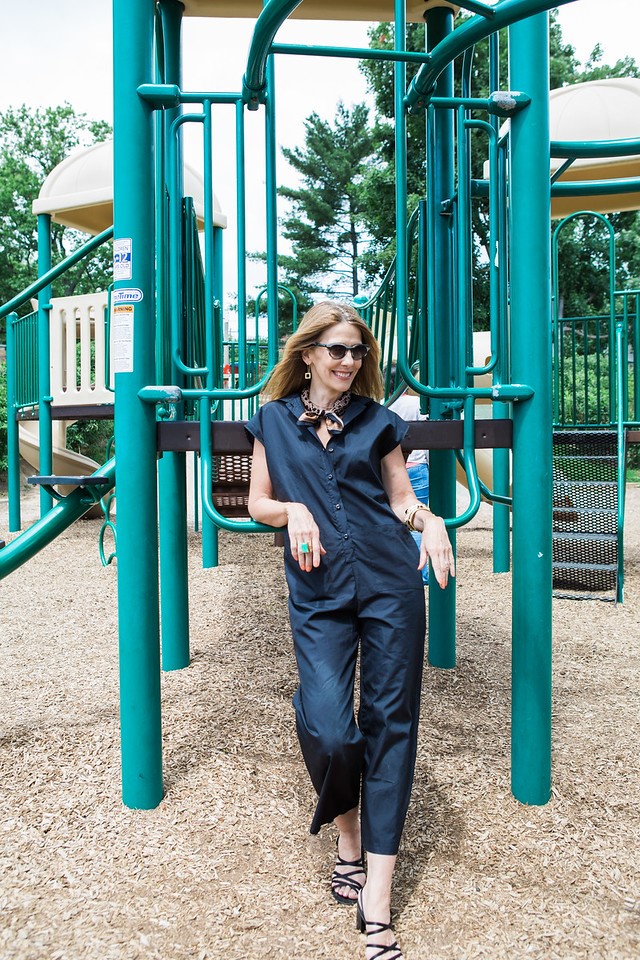 Jumpsuit, SBJ Austin | Scarf, A Peace Treaty | Earrings, available at TSALT
When my children were young, Lee Street Park was our number one destination. I always felt so lucky to have such a beautiful park overlooking the water within a couple blocks of where I lived. It's also a place where so many ongoing friendships began, both for myself and my two teenagers. Plenty of hours were spent playing in the sandbox, sliding down the slide and pushing my kids on the swings. If only the jumpsuit had been as available as my solution! Providing both style and function, they are a mother of young children's dream ensemble! This light cotton one from SBJ Austin is one of my favorites; its versatility straddles edgy and sexy. Below I channel French girl chic by adding summer's newest neck accessory, the neckerchief!
Striped Jumpsuit, Alice & Olivia | Leather and Metal Mesh Belt, Suzi Roher (on sale!)
The striped jumpsuit from Alice & Olivia will make your summer picnics more playful. This one comes with a self-belt but I chose to incorporate an obi style from Suzi Roher for added style points. The shoes are an old favorite from The Shoe Hive with skull and crossbones from Bettye Muller. This season is all about having fun, being playful and keeping your style relaxed.
Gauze Cocoon Top in White, Pharaoh | Utility Jumpsuit in Natural (also available in black), LACAUSA | Turquoise Tassel Necklace | Calaxini Sandals in White with Gold Strap, on sale! $75
The last look is from LACAUSA. It's a sleeper style that can easily be missed when you see it on the rack…aka, no hanger appeal. I would definitely pack this for the beach and envision rolling up the cuffs for surf-breaking walks at sunset.
To sum up, whether you are chasing kids at the playground or carving out your own playtime this summer, jumpers (and rompers) make a great solution to convenient dressing for the heat. Shop all of the looks here!
And just in case you are looking for a Father's Day Gift….this IS happening!